Rambo's Rubbish Removal - Green Waste Removal South East Melbourne
---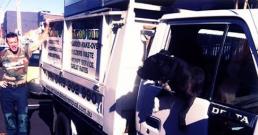 Have no way of disposing your lawn clippings, prunings and leaves?
Are you preparing for the storm season and you've cut down some branches and trees in your backyard?
Are you looking for a fast and efficient green waste removal service?
Rambo's Rubbish Removal is your ultimate rubbish removal provider in South East Melbourne and Bayside Melbourne. We tackle any size of rubbish removal jobs - big and small. We can dispose of your wastes quickly, efficiently and cheaply. Our reliable and friendly service makes us one of the most trusted rubbish removal companies in the area.
We can take care of all your green wastes like grass clippings, weeds, leaves, loose bark, prunings from trees and hedges, storm debris, garden clean ups, palm fronds and all landscaping and garden waste. Most of all, we do all the heavy lifting for you. We can accomplish any rubbish removal tasks for you.
Rambo's Rubbish Removal has been providing green waste removal in South East Melbourne and Bayside Melbourne for more than 10 years.
If you don't have the time or resources to dispose of your rubbish, just contact us and we can come to your location and provide you a free onsite quote.
0419 302 990