---
Let The

Termite

Guy help you get rid of termites and other pests, like ants, cockroaches, rats, mice and rodents! We offer our pest control services all over Melbourne CBD and West Melbourne. As pest specialist, we also provide pre purchase building inspections, asbestos inspections, mould inspections and termite inspections.
---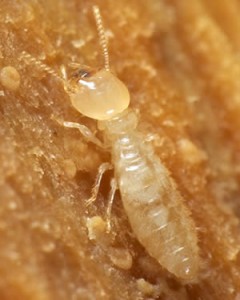 Do you suspect termites might be eating away the wood in your home?
Do you need to rid your home of spiders and other pests?
Do you need pre-purchase property inspections before sealing the deal?
The Termite Guy is the one you need! We specialise in termite inspection, treatment, eradication and prevention. If you think you have termites in your home, call The Termite Guy before it's too late. We conduct termite inspections, termite treatments, and pre-construction of physical and chemical barriers. We also provide a diverse range of treatments and prevention solutions for general household pets like cockroaches, ants, spiders, silverfish, rodents, bees and wasps.
If you need pre-purchase inspections, we also offer timber pest inspections and property inspections for old and new properties. Other services include mould inspections, asbestos inspections, bird proofing and leaf stopper guttering system.
We're a fully insured, family-owned and operate pest control business providing prompt, efficient and professional services in the regions of Melbourne CBD and West Melbourne. We hold all relevant health department certificates and timber pest accreditation.
We are dedicated to providing our customers with fast and effective budget pest control solutions at competitive prices. We have worked with several builders, residential and commercial clients who are happy and satisfied with our services.
Every pest infestation is different that's why our treatments are tailored expressly for your home. We assess, implement and monitor your home or property's pest population before coming up with the best pest control solution. We then set up preventive solutions to make sure that the pests don't come back.
The Termite Guy is your best partner when it comes to protecting and ridding your home of termites and other pests. Protect your investment, your family and your home.
Contact us today for a free quote!